Il libro è pieno di citazioni, cercheremo di raccogliere qui sia quelle del telefilm che dei libri (che speriamo siano le stesse xD).. se volete potete commentare in questo post, scrivendo quelle che avete preferito, sarò ben lieta di aggiungerle all'elenco e di inserire il vostro nick come fonte ;)
[ENG]:
"I sit on the damn iron seat when I must. Does that mean I don't have the hungers as other men?" – Robert Baratheon
* "I will kill every Targaryen I can get my hands on, until they are as dead as their dragons, and then I will piss on their graves." - King Robert
* "Death is so terribly final, while life is full of possibilities." - Tyrion
"Rhaegar fought valiantly, Rhaegar fought nobly, Rhaegar fought honorably. And Rhaegar died." - Ser Jorah Mormont
* "You are a sword that is all." - Syrio
* "Can a man still be brave when he's afraid?" - Bran
* "Love is poison. A sweet poison, yes, but it will kill you all the same." - Cersei
* "The winters are hard, but the Starks will endure. We always have." – Ned Stark
"Laws are a tedious business and counting coppers is worse."- Robert Baratheon
"Tears are not a woman's only weapon." - Cersei Lannister
"Fear cuts deeper than swords."- Syrio
"The things I do for love." – Jaime Lannister
"Give me sweet lies, and keep your bitter truths." - Tyrion Lannister
"The man who passes the sentence, must swing the sword." - Ned
"If you would take a man's life, you owe it to him to look him into his eyes and hear his final words. And if you cannot bear to do that, then perhaps the man does not deserve to die." – Eddard Stark
"All dwarves may be bastards, yet not all bastards need be dwarves." - Tyrion
"When the snows fall and the white winds blow, the lone wolf dies but the pack survives." - Ned
"When you play the game of thrones, you win or you die."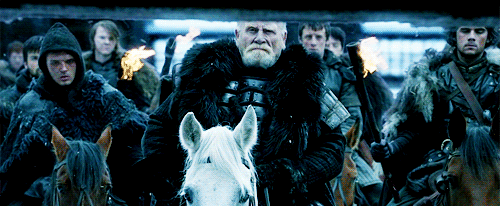 <3 CITAZIONI IN INGLESE IN BASE ALLA PUNTATA <3
Episode 8: "The Pointy End"
Robb: Tell Lord Tywin winter is coming for him. Twenty thousand northerners marching south to find out if he really does sh*t gold.
Tyrion: And here we have Bronn, son of...
Bronn: You wouldn't know him.
Shaggar: How would you like to die, Tyrion, son of Tywin?
Tyrion: In my own bed, at the age of 80, with a belly full of wine and a girls mouth around my c**k.
Theon: You're afraid?
Robb: I must be.
Theon: Good.
Robb: Why is that good?
Theon: It means you're not stupid.
Cersei: You disappoint me child. We've told you of your father's treason. Why would you want to speak to a traitor?
Syrio: What do we say to the God of death.
Arya: Not today.
Syrio: Go.
Episode 7: "You Win or You Die"
Baelish: I did warn you not to trust me.
Ned: The king has no true born sons. Joffrey and Tommen are Jaime Lannister's bastards.
Baelish: So, when the King dies...
Ned: The throne passes to his brother, Lord Stannis.
Ned: Stannis is a commander. He's lead many to war, twice. He destroyed the Greyjoy fleet.
Renly: Yes, he's a good soldier. Everyone knows that. So was Robert. Tell me something. Do you still believe good soldiers make good kings?
Ned: I will not dishonor Robert's last hours by shedding blood in his halls, and dragging frightened children from their beds.
Samwell: Now listen to me. The old man is the Lord Commander of the Night's Watch. You'll be with him day and night. Yes you'll clean his clothes, but you'll also take his letters, attend him at meetings, squire for him in battle, you'll know everything, be part of everything. And he asked for you himself. He wants to groom you for command.
Jon: I just, I always wanted to be a ranger.
Samwell: I always wanted to be a wizard.
Robert: The girl, Daenerys, you were right. Varys, Littlefinger, my bother, worthless. No one to tell me right but you . Only you. Let her live. Stop it if it's not too late.
Ned: I will.
Robert: And my son, help him Ned, make him better than me.
Cersei: Targareyans wed brothers and sisters for 300 years to keep the bloodline pure. Jaime and I are more than brother and sister. We shared a womb. We came into this world together, we belong together.
Ned: My son saw you with him.
Cersei: Do you love your children?
Ned: With all my heart.
Cersei: As do I.
Ned: And they're all Jaime's.
Cersei: Thank the Gods for that.
Tywin: Your mother's dead, before long I'll be dead, and you, and your brother, and your sister and all of her children. All of us dead, all of us rotting in the ground. It's the family name that lives on. That's all that lives on. Not your personal glory, not your honor, but family. Do you understand?
Episode 6: "A Golden Crown"
Lysa Arryn: You don't fight with honor!
Bronn: No, he did.
Dany: He was no dragon. Fire cannot kill a dragon.
Viserys: No! You cannot touch me. I am the dragon! I want my crown!
Sansa: Where do you come from, the north or the south?
Septa: I come from a very small village...
Sansa: Oh wait, I just realized I don't care.
Robert Arryn: Can I make the little man fly now?
Tyrion: Not this little man. This little man is going home now.
Tyrion: Where do I begin, my lords and ladies? I am a vile man, I confess it. My crimes and sins are beyond counting. I have lied and cheated, gambled and whored. I'm not particularly good at violence, but I'm good at convincing others to do violence for me. You want specifics, I suppose. When I was seven, I saw a servant girl bathing in the river. I stile her robe and she was forced to return to the castle naked and in tears. I closed my eyes, but I could still see her tits bouncing. When I was 10, I stuffed my uncle's boots with goat sh*t. When confronted with my crime, I blamed a squire. Poor boy was flogged, and I escaped justice. When I was 12 I milked my eel into a pot of turtle stew. I flogged the one-eyed snake, I skinned my sausage. I made the bald men cry into the turtle stew, which I believe my sister ate. At least I hope she did. I once brought a jackass and a honeycomb into a brothel....
Tyrion: Have you ever heard the phrase "Rich as a Lannister?" Of course you have. You're a smart man. You know who the Lannister's are. I am a Lannister. Tyrion, son of Tywin. Of course, you have also heard the phrase, a Lannister always pays his debts. If you deliver a message from me to Lady Arryn, I will be in your debt. I will owe you gold. If you deliver the message, and I live, which I very much intend to do.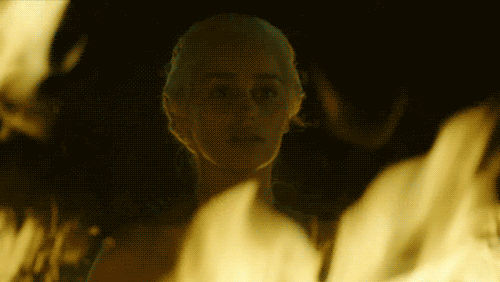 fonti: citazioni (vedere in basso nella lista delle fonti del blog), gif